Even a goalscoring legend like Ronaldo couldn't help but be impressed by Rabiot's brilliant equalizer in Juventus' match against Lazio.
Adrien Rabiot scored one of Juventus' best goals of the season against Lazio, a goal even Cristiano Ronaldo would've been proud to claim.
The Portuguese showed his appreciation for Rabiot's closed-angle missile finish with an impressed little pout as he and his Juventus teammates cheered from the bench.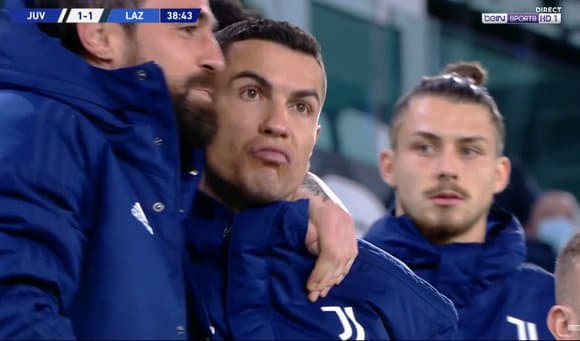 Cristiano's reaction to Rabiot's goal. 😂 pic.twitter.com/vpvQ046Fxg

— Cristiano Ronaldo Seven (@ronaldosevn) March 6, 2021
The goal came just before the break when Alvaro Morata slipped the ball into the left side of the box. Rabiot then smashed the ball from a tight angle past Lazio keeper Pepe Reina and into the top corner to cancel out Joaquin Correa's opener.
Morata later scored a second-half brace to seal a 3-1 win before Ronaldo replaced the Spaniard for the final 21 minutes.
The five-time Ballon d'Or winner is now preparing for Juventus' second leg against Porto in the Champions League on Tuesday.