During a very busy day at PSG, the French club accidentally confirmed Sergio Ramos' arrival as the latest transfer in a funny way.
The worst kept secret PSG has at the moment is Sergio Ramos' imminent announcement as their most recent transfer. We saw Achraf Hakimi getting announced yesterday and Ramos just made the trip to Paris earlier today. There was even some footage of the Spanish defender already in Paris going to get the medical exam. According to reports, everybody at PSG is mesmerized by Ramos' impressive physical condition. They are convinced he has better fitness than most of the Ligue 1 players from other professional clubs.
It is only a matter of time before he gets announced later today, we might even be minutes away from confirmation. But there are some other details we obviously didn't know anything about. Nobody knew which jersey number Ramos was going to wear but that changed a few minutes ago. PSG's official website accidentally published an article where they reveal Ramos talking about wearing the number '4' jersey. If this doesn't confirm he is already a PSG player, we honestly don't know what other signs you are looking for.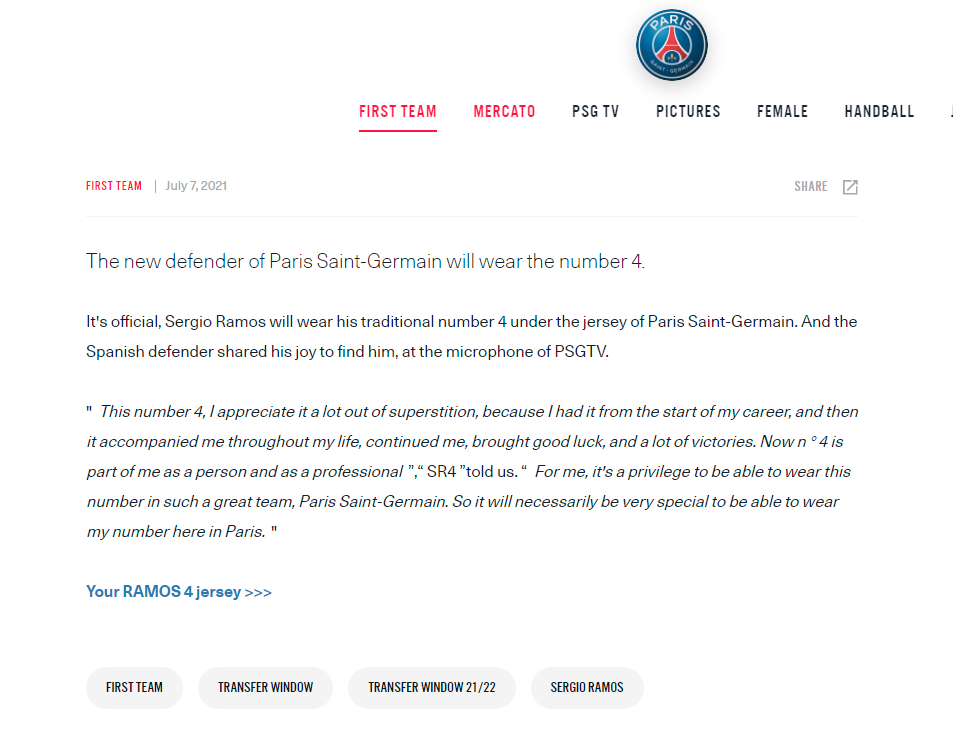 PSG's rookie mistake on their website.
The article in question was uploaded for only a few minutes, then it was taken down by the club's communication department. Ramos talks about how important this number has been throughout his professional career at Real Madrid. We are only counting the minutes until Sergio becomes the latest PSG player from a long list. This summer will be incredibly busy for the French giants. As per the club's official website, here's Ramos' leaked statement: "This number four, I appreciate it a lot out of superstition, because I had it from the start of my career.
"And then it accompanied me throughout my life, continued me, brought good luck, and a lot of victories. Now number four is part of me as a person and as a professional. For me, it's a privilege to be able to wear this number in such a great team, Paris Saint-Germain. So it will necessarily be very special to be able to wear my number here in Paris."