Argentina are one of the powerhouses in international football. Winners of two World Cups, their current run to the quarter-finals hasn't been smooth sailing.
But, with some clever tactical adjustments from young coach Lionel Scaloni and some magical genius from the left foot of Lionel Messi, La Albiceleste look like they are in with a real shot of winning it all.
It may not be straightforward from here on out, but Scaloni has shown he is open to making changes and diverting from the shape with which they started the tournament. So, what has changed since the shock defeat to Saudi Arabia?
Change of formation
The Saudi Arabia defeat came at the perfect time for Argentina. Having gone 35 games unbeaten, they were probably due one and better to lose early rather than in the knockout phase. They may have fallen to the third favourite in the competition at 9/2, but their World Cup title odds are probably due to how good France and Brazil have looked rather than how they have performed since their opening defeat. 
Argentina lined up against Saudi Arabia in a 4-4-2/4-4-1-1 formation with Messi and Lautaro Martínez up front. The idea behind the lineup was to provide two rows of defensive stability and let the forwards come up with the creativity and goals. Problems arose when the midfield looked disjointed, and the distance gaps were being exploited. They rolled out the same formation in the next game against Mexico but with plenty of personnel changes. Although they won, it was due to some sublime work by Messi; clearly, something still needed to be done. The switch to a 4-3-3 has allowed them to dictate things in midfield, push high and wide, and, best of all, get Messi on the ball more.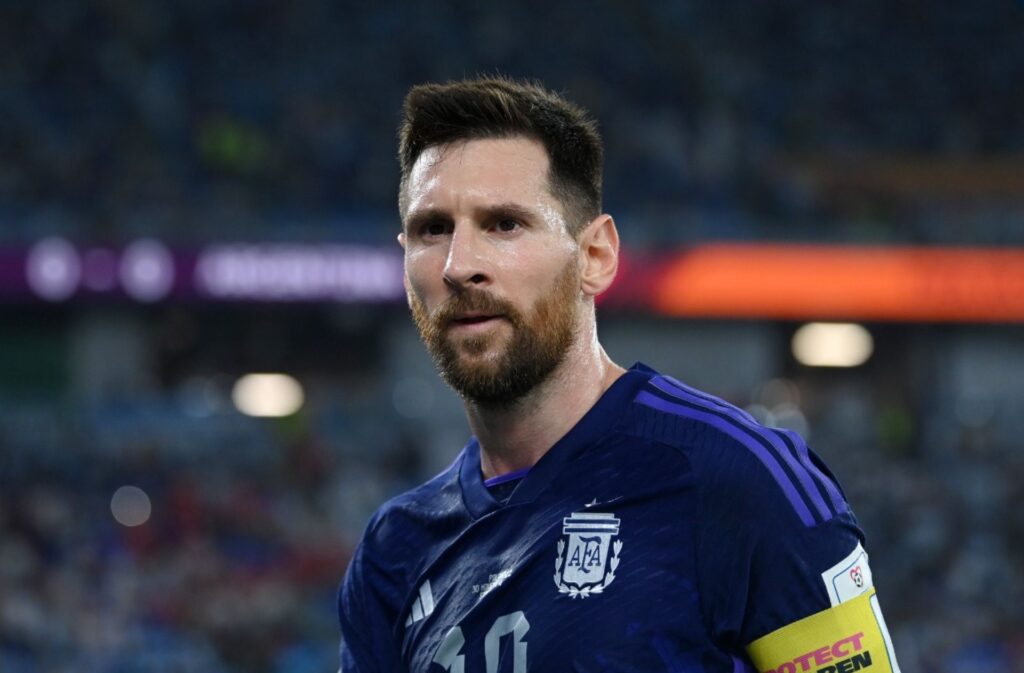 Freedom for Messi at false 9
The diminutive playmaker was hardly quiet in his first two games; he scored in both, but letting him impact games by drifting into pockets of space is going to be Argentina's best chance to succeed. The 4-3-3 allows Messi to act as a false 9 to drop into midfield and dictate things from the centre of the park, while the wide forwards are narrow, with width provided by the fullbacks. 
The midfield three anchored by Rodrigo de Paul has an equal amount of skill, intensity, defensive solidity and guile to give Argentina everything they need to succeed. Veteran defender Nicolás Otamendi has also been integral to a defence that only conceded one goal in the group stage.
Attacking shape/defensive solidity
The attacking shape has given Messi the freedom to influence the game in moments. He naturally eases into games, analysing how the opposition is lining up and how he can exploit them. He works in the half spaces, drops deep to pick up the ball and slices defences with clever one-twos. Their goals haven't always been easy finishes, but with the precision of Messi's play, they've been able to score in every game. Having one of the greatest players gives them a lot of leeway; relying on him to come up with moments of magic lets everybody else perform in specific roles.
Primarily, Argentina needs defensive solidity. Knowing they'll score, the midfield offers the backline plenty of protection. Although fullbacks push up in possession, they're quick to drop back and even get protection from the wide forwards. Although Messi conserves his energy for attacking phases, he has offered to press higher up the field in this competition.
Argentina could be set up for success. Similar to how they won the World Cup with Maradona in 1986, they have put a team around Messi that can do all the dirty work while he comes up with match-winning moments.