Ace Football lists and profiles the five greatest South African midfielders throughout football history.
While strikers score goals, midfielders create them. These are the most skillful players on a pitch. They're a team's go-to-guy for passes and require a unique skill-set to succeed in their role.
A midfield maestro doesn't necessarily need speed, but must have
an excellent technical ability. The player needs good awareness,
passing, tackling, and a
never-say-never attitude.
With these aspects in mind, Ace Football takes a look at the five greatest South African midfielders throughout football history.
5. Siphiwe Tshabalala
Siphiwe Tshabalala is one of the most decorated South African midfielders of all time. The Soweto-born star has spent the bulk of his career at Kaizer Chiefs, winning nine trophies. These include two Premier Soccer League titles and three Telkom Knockout triumphs.
The 2010 SAFA Footballer of the Year is also the third-most capped player in the national team's history. He scored 12 times, while featuring in four major tournaments. His most famous moment was scoring the first goal of the 2010 World Cup. The way he smashed the ball into the Mexican net earned widespread praise, prompting FIFA to nominate it for the Puskas award.
Tshabalala, who can play as a winger and midfielder, was renowned for his pace and crosses in his prime. His left foot could even pack a powerful shot. Now, aged 37, he is a free agent after leaving Amazulu FC in August 2021.
4. Teko Modise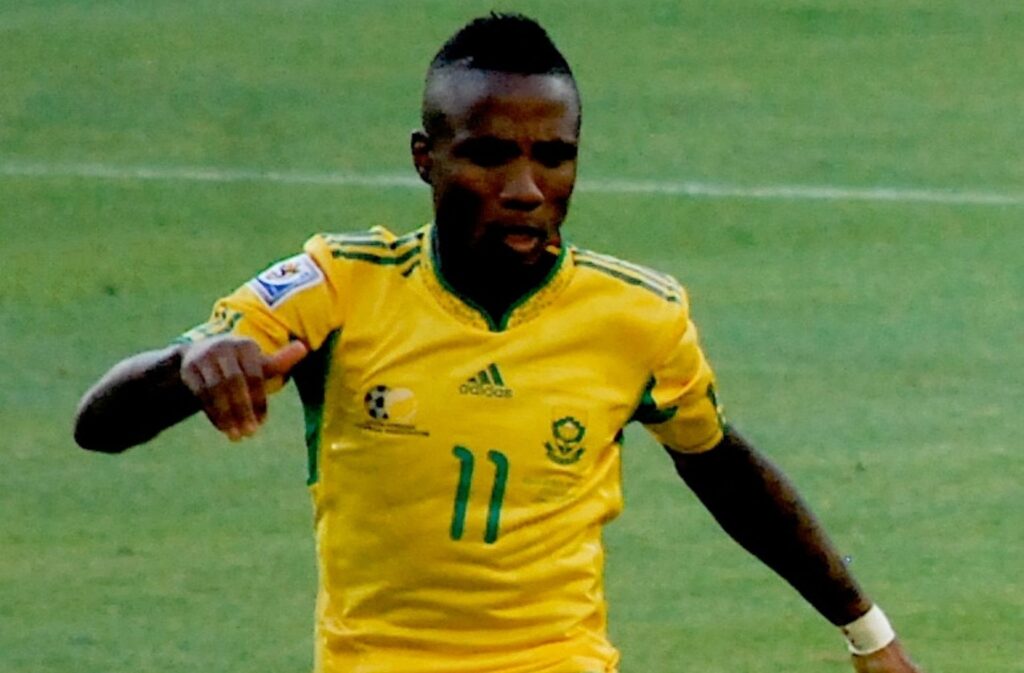 'The General' was the full package. His direct style of play and creativity made him a fan favorite. He is not only one of the greatest PSL players, but is also one of the most fashionable footballers from the league.
Despite never venturing abroad, Teko Modise had an incredible career. The midfielder started out in the lower leagues, yet ended up becoming one of South Africa's biggest stars. He twice won the PSL Footballer of the Year at Orlando Pirates. In terms of silverware, his greatest success was at Mamelodi Sundowns – winning six trophies, including two PSL titles and the CAF Champions League.
On the international scene, Modise won 66 caps and scored 10 goals. He represented the Bafana Bafana at the 2008 Africa Cup of Nations, 2009 FIFA Confederations Cup, and 2010 World Cup.
3. Steven Pienaar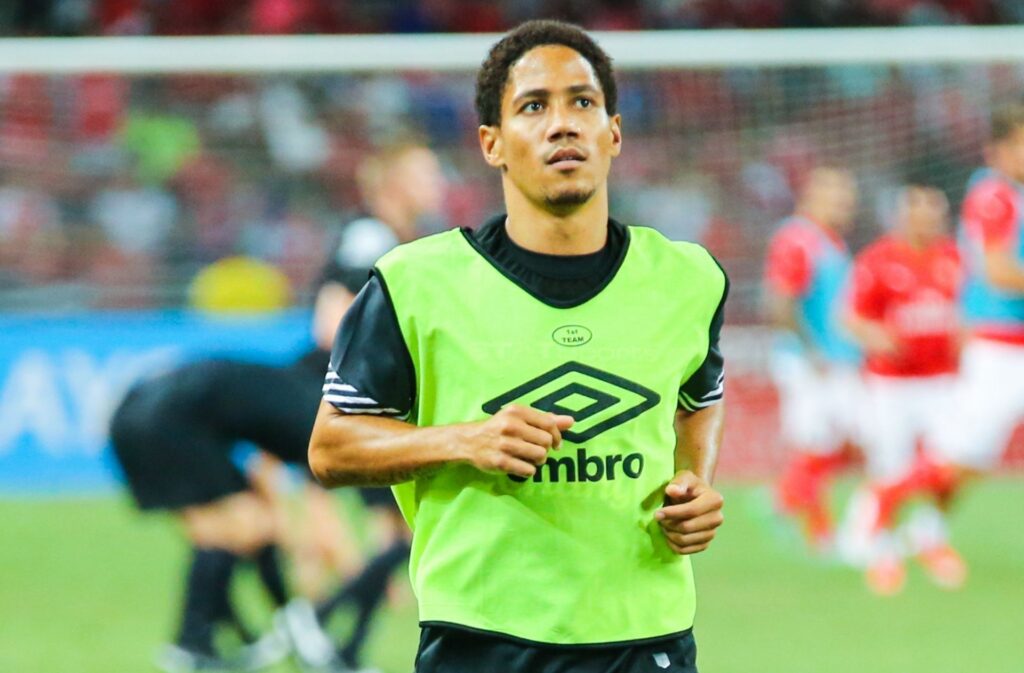 Steven Pienaar could play as a winger and attacking midfielder. The star quickly rose through the ranks, earning a move to Dutch giants Ajax at 18. He was a success, winning two Eredivisie titles alongside the likes of Zlatan Ibrahimovic and Rafael van der Vaart, and claiming the most assists in the 2005/06 Champions League campaign.
After one season at Borussia Dortmund, Pienaar enjoyed a superb 10-year spell in the Premier League. He made 214 league appearances for Everton, Tottenham, and Sunderland. A brief stint at Bidvest Wits followed, before he pulled the curtain on his career in 2018.
Pienaar also won 62 caps for the South African national team and represented the Bafana Bafana at the 2008 Africa Cup of Nations, 2009 FIFA Confederations Cup, and 2010 World Cup.
2. Theophilus Doctor Khumalo
'16V' was one of the most skilled South African midfielders in his prime. His ability to dictate games from the middle of the park, slick touches, and insane dribbling skills made him a hit. His legacy still burns brightly to this day, almost two decades since his retirement.
Doctor Khumalo's talents took him abroad to the United States at Columbus Crew and Argentina at Ferro. For most of his club career, though, he played for Kaizer Chiefs.
Fans widely regard Doctor Khumalo as one of the greatest players for the South African national team. The midfielder won 50 caps on the international scene, scoring nine times. He famously scored the Bafana Bafana's first international goal in a 1-0 win over Cameroon in 1992 after their ban was lifted; before playing a starring role in the 1996 AFCON triumph.
1. John 'Shoes' Moshoeu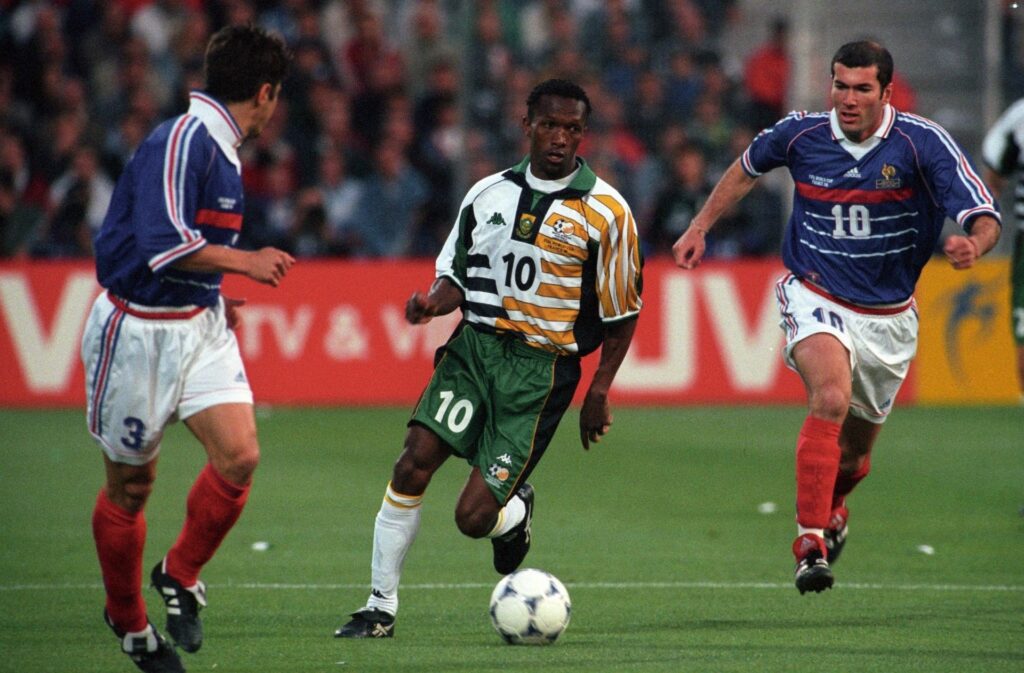 Coming first on our list of the greatest South African midfielders of all time is the late John Moshoeu.
The 'dribbling wizard' was a stalwart of South African football throughout his career. Moshoeu started out in his homeland at Giant Blackpool and Kaizer Chiefs, before moving to Turkey in the early 1990s. He spent a decade playing for the likes of Kocaelispor and Fenerbahce, winning the Turkish League in 2000/01.
'Shoes' also won 73 caps at international level and was a member of the 1996 AFCON title-winning South Africa squad. He retired in 2008, aged 42 at AmaZulu. But not before becoming the oldest PSL scorer in history a year earlier at the age of 41, 11 months, and 17 days.