As it turns out, France Football decided to acknowledge Pele as a 7-time Ballon d'Or recipient. This is more than Messi or Cristiano Ronaldo.
Nearly two decades, Pele has been overlooked below Leo Messi and Cristiano Ronaldo due to his lack of Ballon d'Or trophies from France Football. The French publication created the award in 1956 but it only gave it to European players until 1994. This means that for 38 years, the most prestigious individual accolade in world football wasn't fair for everybody.
There's a very specific era in which a player was known as the best by a large margin and he is considered the best-ever by the ones who saw him play. This is or course, King Pele. The only man who won three FIFA World Cup trophies with his national team and a true maverick of the sport.
Pele has many incredible records but he never won the Ballon d'Or in person during his prime because of these rules. But there's a piece of information we completely missed about the award that France Football created.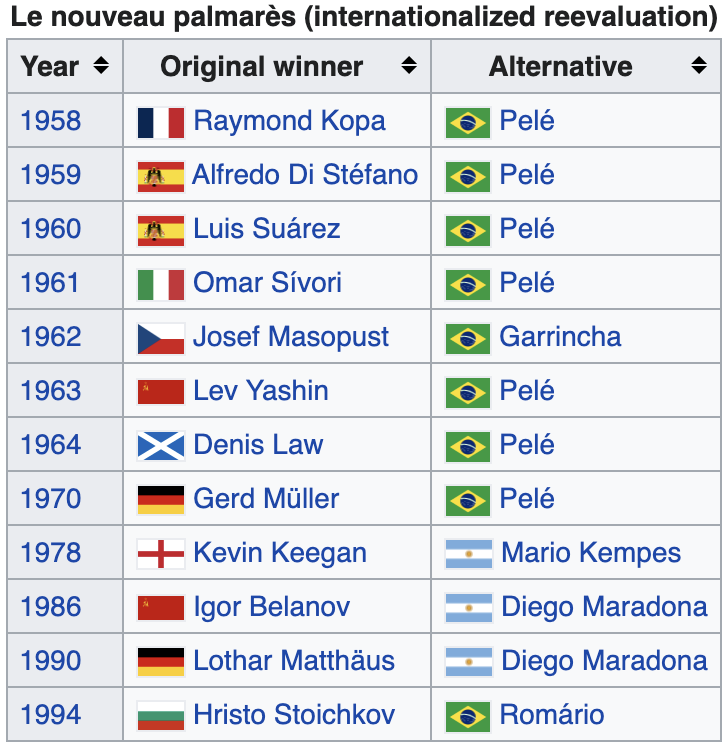 Pele is the King after all.
By the time of the award's 60th anniversary, the French publication decided to make a new evaluation of the years in which no players from other countries were considered for the award. The results are quite incredible and a surprise for many. As it turns out, 12 of those awards were given to South American footballers. With Mario Kempes (1978), Garrincha (1962), and Romario (1994) getting one.
Diego Maradona was awarded twice with the prize. Once in 1986 and another one in 1990. However, and get this. Pele was recognized by France Football as the Ballon d'Or recipient a record 7 times. According to the publication, he should've won the award in 1958, 1959, 1960, 1961, 1964, 1965, and 1970. This means that Pele would effectively have one more award than Leo Messi and two more than Cristiano Ronaldo.
With this new information, both players from this era still have some pending assignments with King Pele. The Brazilian legend is still the best-ever, according to France Football's cover from a 2016 magazine edition.