Pierre-Emerick Aubameyang and Arsenal threw their full support behind Bukayo Saka after the England star's penalty miss in the Euro 2020 final.
Pierre-Emerick Aubameyang and Arsenal both expressed their pride in Bukayo Saka in messages of support.
The 19-year-old missed the decisive penalty-kick that condemned England to a 3-2 shootout loss to Italy in Sunday's Euro 2020 final following a 1-1 draw between the teams after extra-time.
Italy goalkeeper Gianluigi Donnarumma, who also saved Jadon Sancho's effort, guessed correctly by diving to his left to keep out Saka's spot-kick.
It ended what had been an otherwise superb Euro 2020 campaign for Saka on a heartbreaking note. The teenager won a man of the match award against the Czech Republic in Group D. He also impressed in the victories over Germany and Denmark in the knockout stages.
Now Aubameyang, who bestowed Saka with his 'Little Chili' nickname, posted a message on Instagram to support his Arsenal teammate.
The Gunners captain wrote: "Proud of you, my little bro!! This will build your success, you will see."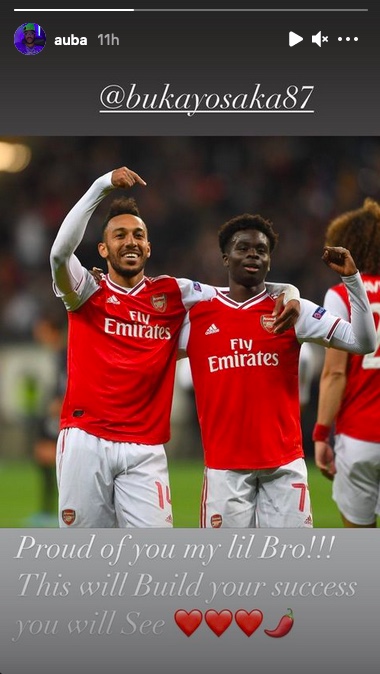 Arsenal voice their disgust at racist abuse
The Gunners, like Aubameyang, expressed their pride at seeing the academy graduate become a European finalist at only 19.
Sadly, not everybody shared the same view. Saka, along with England teammates Marcus Rashford and Jadon Sancho, was subjected to abuse on social media after they each missed a penalty in the shootout.
"Last night, we saw Bukayo Saka reach the Euro 2020 final at the age of 19 years old," read a statement from Arsenal.
"Bukayo has been with us since he was seven and the whole club couldn't have been prouder to see him represent England throughout the tournament. You could feel it right across the club.
"Last night we witnessed the leadership and character we've always known and loved in Bukayo. However, this feeling of pride quickly turned to sorrow at the racist comments our young player was subjected to on his social media platforms after the final whistle.
"Once again, we are sad to have to say we condemn the racism of a number of black players. This cannot continue and the social media platforms and authorities must act to ensure this disgusting abuse to which our players are subjected on a daily basis stops now.
"We have processes in place internally at Arsenal to ensure our players are supported both emotionally and practically on this issue but sadly there is only so much we can do.
"Our message to Bukayo is: hold your head high, we are so very proud of you and we cannot wait to welcome you back home to Arsenal soon."